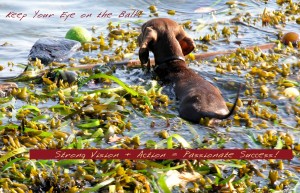 In the mid 1980's my brand-new husband owned a recording studio on the Monterey, California, Peninsula. His hobby was digitally recording environmental sounds in various wilderness areas and then turning the sounds into multi-tracked cassette tapes. (No…even CD's hadn't made the scene yet.) He also created the covers and had stock piled hundreds of four different recordings including Thunderstorm in the Big Sur Mountains & Dawn and Dusk in the Ventana Wilderness.
His next step was talking me into selling them. Since I was not a professional sales person, and I didn't know why anyone would buy them to begin with, I kept putting him off…until I couldn't stand his enthusiasm any longer! I took a day off from work as director of a huge day care center at Ft. Ord (now closed) and scooted down to Santa Barbara, with absolutely no plan, although I had made a nifty display that showed and explained the product. This is where I began seriously began to follow my nose from step to step.
Feeling quite stressed about this entire venture, I sat on a bench on the lower half of State Street and watched people come out of stores. I noticed which ones were the busiest and decided my first sales call would be at one of those three. Then I picked my first choice, Lynn's Hallmark. I will forever remember walking over the thresh hold carrying my display when a man walked towards me and said, "We don't carry cassettes." I hadn't even opened my mouth. My heart fell right down to my feet, wondering if I was going to turn away in defeat…or not.
I actually began a conversation describing the delights of my product assuring him that if they didn't sell in 30 days, I would send a UPS call tag to pick them up. I didn't even want money for them at the time. Whatever I said evidently convinced him that it was a no-brainer to give them a try, and I left 24 tapes with him. Since that spiel worked pretty well, I tried it at ten other gift stores, it worked on all of them, and I returned home and went back to work on Monday.
Within two weeks, all 11 stores called and said they needed more. Thus was born the concept of playing and selling music in the gift industry. I loved being a pioneer and eventually showing our products at international trade shows. Some of our early accounts included the Smithsonian Institute, Disneyland, Knott's Berry Farm, a lot more Hallmark stores, nature chains, high-end hotels…and hundreds more.
In fact, when five years had rolled around, we had signed nine musicians to our label and created our own music and environmental products…and reached three million dollars in annual sales. And yes, I was still following my nose, doing whatever came next. There was no one to tell me what to do, so I made it up as I went along. There is more to this story, which I will relate in Part Two. In the meantime, watch where your nose is pointing you! And if you would like to know exactly how to follow your nose, join me for a February retreat in Friday Harbor, WA. http://www.sharonhooper.com/retreats/