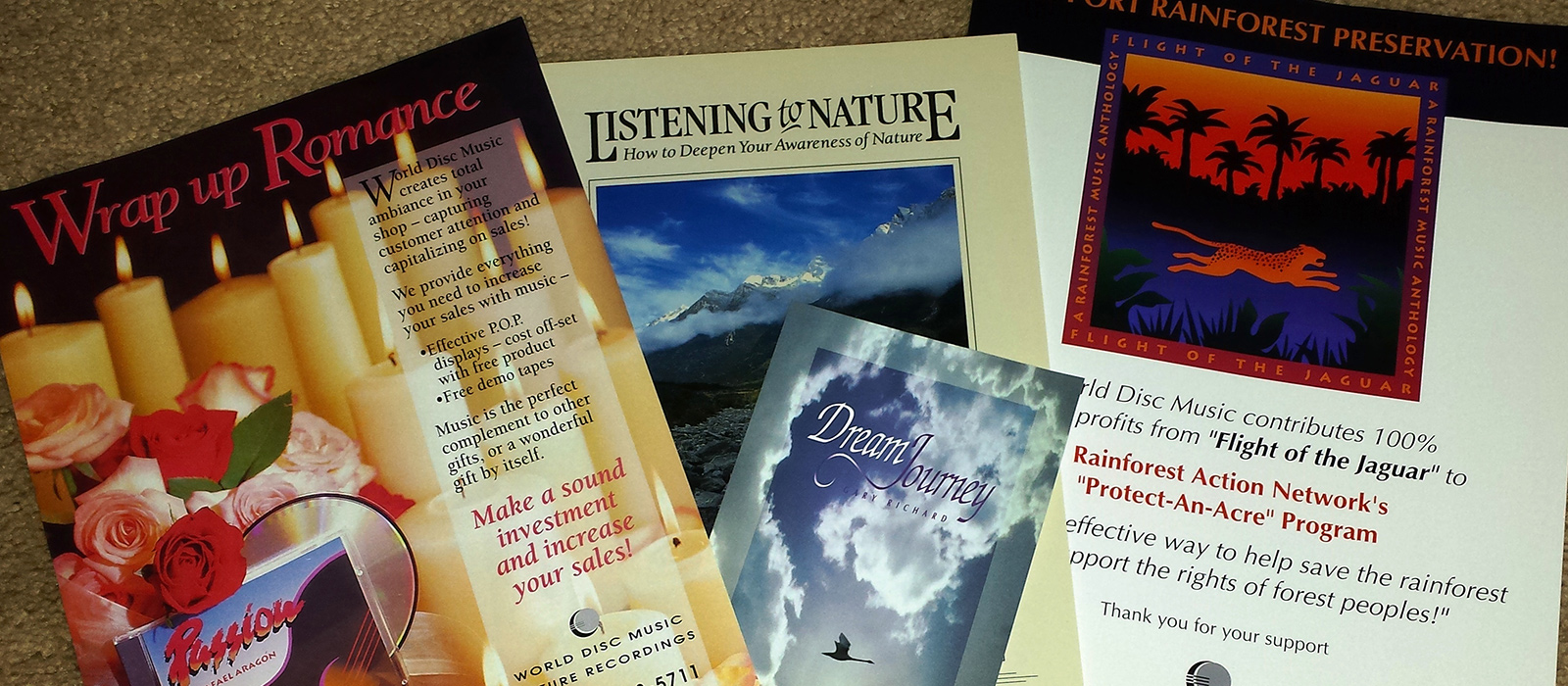 Are you looking for a combination of consulting and coaching?
My background includes the complete cycle of product development, geared towards the multi-billion dollar gift industry. Our recording label and company, world Disc Productions and Nature Recordings, actually pioneered the concept of playing and selling music in the gift industry.
Okay, I have to admit that I constituted the one-man band of our marketing and sale department for the first two years. Before us, selling music in museum gift stores, and other establishments like Busch Gardens, Hallmark stores and nature chains was unheard of.
My first account was Lynn's Hallmark in Santa Barbara. I had no idea what I was doing at the time. But from that humble beginning, where I was told "we don't sell music," we somehow grew our record label from zero to five million dollars annually in eight years.
I had to learn everything about how you develop a product from design through manufacturing and marketing, which meant inclusion at several international trade shows annually. I learned how to get our product into gift repping firms throughout the United States and England, which included managing our product with approximately 125 sales representatives.
Along the way, we shared our company philosophy as an environmentally friendly business long before the industry started talking about it. So many businesses asked 'how does one become environmentally friendly especially with a record label.'
Well, that's another story for another time.
We won many awards for music, packaging, and business practices (a major SBA award). We were INC magazine finalists two years in a row and won a 'gold star' from Parents Magazine for our children's series. But the most important facets of our business were our staff and retail customers.
I created many 'benchmarks' before anyone else had even heard of the word…because I wanted our customers to really love us as a company!
From the Smithsonian Institute Museum gift shop to the Monterey Bay Aquarium, I learned the trade of designing, manufacturing, marketing, selling and offering superb customer service.
My husband and I started a publishing business a few years ago, just as that industry was going through major changes…not good timing! However, being a published author myself and knowing the business, I have coached writers to finish their books, or create a new ones. Ahhh…there is so much joy in discovery!
Please let me know how I can be of service as a coach and/or a consultant to guide you through the process of developing a product or service. I have a super creative and experienced team. We are here to help you reach the success you desire.